Annie E. Caffee, CoPastor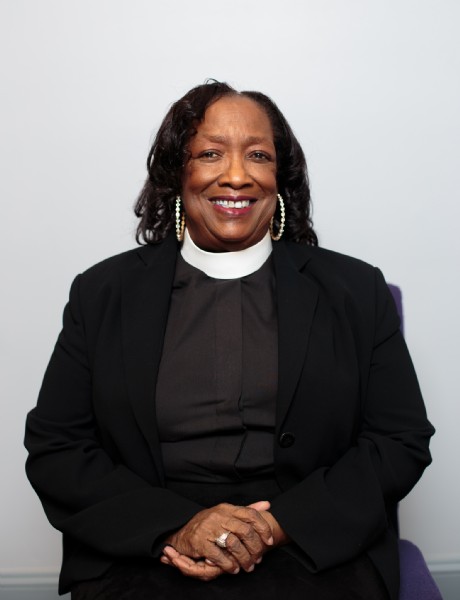 Annie Elizabeth Caffee was born in Washington, D.C.,
and is the 2nd of seven children.  Ann fondly reflects on her childhood memories and confesses that although the physical location of her home was Washington, D.C., the inside of her home, felt like North Carolina.
Ann attended Washington D.C. public schools.  She worked for several years in both the D.C. and federal government before she met and married Pastor David L. Caffee, an officer of the United States Marine Corps stationed in Washington, D.C.
She often testifies that she was not raised in church as so many were privileged to do so, but that didn't seem to bother the Lord at all.  She accepted Jesus Christ and received salvation in a little old sanctified, hand-clapping, foot-stomping, tongue-talking, Holy Ghost-filled church in District Heights, MD, under the anointed leadership of Bishop Stanford Butts. 
Co-Pastor Caffee has served in several roles throughout her Christian walk.  She has served as a Missionary, Evangelist, and was ordained an Elder in 2004.
The Lord birthed the love for intercessory prayer in her heart and she continues this awesome ministry to this day. God has also allowed Co-Pastor to publish SELAH, a daily online blog, and monthly Daily Devotional. 
She considers herself to be a 21st Century Scribe creating, instructing, encouraging, and motivating others to re-evaluate their personal potential while aspiring for the manifestation of the GREATER THAN that God has placed on the inside of us; even at the risk of soaring above their predisposition to settle for the convenience of the normal.
Elder Caffee is humbly submitted and committed to the voice and the vision that God continues to unfold.  She currently assists her husband and Pastor, Elder David Caffee by ministering to God's Precious Souls, and exemplifying the Love of Christ to a lost and dying world.